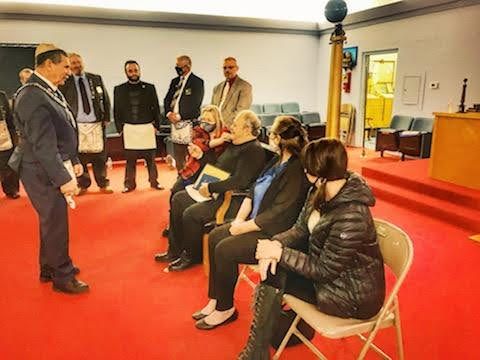 Congratulations to Bob Hall, Carmel #421's newest (and youngest*) Master Mason!
We wish Brother Hall a wonderful and fulfilling journey in Masonry.  It was also a delight to meet with Bob's family who attended our dinner and a special lodge introduction conducted by WM (for the evening) WB Steve Burnstein.
Much thanks to Bartimaeus Lodge UD#02 members for conducting the degree, to the members from Carmel #421 who helped out, and to all who attended!  The degree went smoothly and the night ended with peace and harmony.
*Master Masons call their newest Master Masons – their "youngest". The next time you meet a Mason, ask them why!
>>>>>>>>>>>>>>>>>>>>>>>
Despite the current challenges with COVID and what obstacles may lie ahead, our lodge is committed to persevering and taking each day one day at a time. On a positive note, we have the year planned out and encourage anyone who has time, to view the Trestleboard for upcoming events.
*Please note, we follow the Grand Lodge of Indiana's Covid-19 social distancing guidelines at all our lodge events. Masks are required by all, and those who may be sick or at risk, are staying home with many healthy or "at-risk" members and/or guests watching our Masonic Education events online.  If you are in good health and do not have significant health risks, consider attending at our lodge and joining our other brothers meeting at the lodge. For more information see Covid-19 News and Updates.
Hamilton County COVID-19 Update 8-04-2022 In Hamilton County, the community level is currently Medium. People may choose to mask at any time. People with symptoms, a positive test, or exposure to someone with COVID-19 should wear a mask. If you are immunocompromised,...
read more