Fraternal Greetings,
Brethren, you are cordially invited to witness the conferring of the Entered Apprentice degree upon worthy candidates.
When: Thursday, October 01, 2020 : Degree Work @ 7:00 pm. (there is no dinner at the lodge before the degree*)
Please dress in attire appropriate for the solemnity that accompanies a degree night, You must be an EA, FC, or MM to attend the degree work. 
*Your friends and guests are welcome to attend our dinner and/or socials after the degree work.  This will also give us the opportunity to share good food, good fellowship and with your help; to introduce our beloved Craft to non-Masons and potential good candidates for Masonry.
Optional After Degree Social Location:
Woodys Library Restaurant
40 E Main St
Carmel, IN 46032
United States
Fraternally Yours,
Wilfredo A. Geronimo, WM
Carmel Masonic Lodge #421
*Please note, we follow the Grand Lodge of Indiana's Covid-19 social distancing guidelines at all our lodge events. Masks are required by all, and those who may be sick or at risk, are staying home with many healthy or "at-risk" members and/or guests watching our Masonic Education events online.  If you are in good health and do not have significant health risks, consider attending at our lodge and joining our other brothers meeting at the lodge. For more information see Covid-19 News and Updates.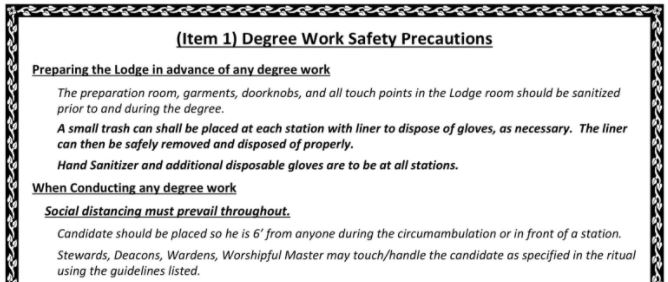 With the resumption of Masonic degree work at Carmel 421 on October 1st, 2020 (EA scheduled, see trestle board), The Grand Lodge of Indiana has issued guidelines to insure the safety of the candidates, guests, and members.  The list (not published in full here) is...
read more