Status as of 6-12-2021: "Lodge Activities Resumed"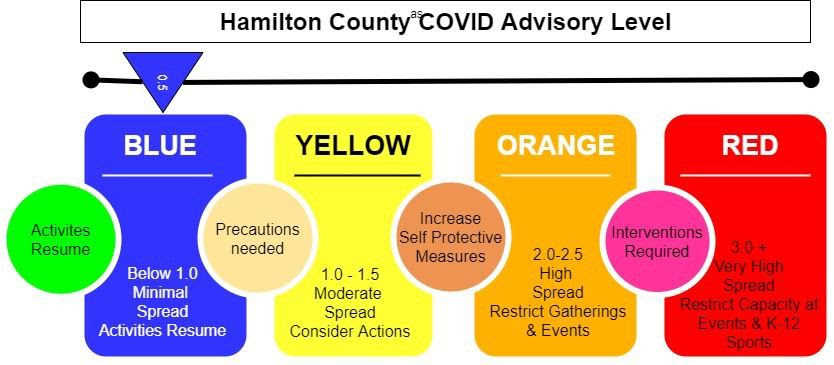 Hamilton County COVID-19 Update
More GREAT news!! The reported, gradual decrease of COVID cases within Hamilton County has officially downgraded Hamilton County from YELLOW to BLUE on the Indiana matrix map, as of early June 2021.
With lodge activities having resumed and returned to normal, we are excited about what we have planned for the remainder of this year. Please continue to follow the CDC guidelines and recommendations for both vaccinated and non-vaccinated personnel, effective May 28, 2021.
With school out and summer officially right around the corner, we trust everyone will have a safe Summer! Happy festivities!
*Please note, we follow the Grand Lodge of Indiana's Covid-19 social distancing guidelines at all our lodge events. Masks are required by all, and those who may be sick or at risk, are staying home with many healthy or "at-risk" members and/or guests watching our Masonic Education events online.  If you are in good health and do not have significant health risks, consider attending at our lodge and joining our other brothers meeting at the lodge. For more information see Covid-19 News and Updates.
Did you know that ...you DO NOT have to be a Mason to attend our social events?  That's true, and if you're interested in Masonry, or becoming a Mason you are fully welcome to attend any of of social nights (or for our dinners, 6pm to 7pm, held before any meetings at our lodge each Thurs) and meet our awesome Masons.  No notice is necessary, but if you want to RSVP, just send a note to our lodge Secretary via our lodge contact form.
To see when our next lodge social is, check out our lodge calendar (aka "Trestle Board") to see our activity schedule.