421 Celebrates Three New EA's
Posted by Carmel 421 Webmaster on Nov 29, 2018 in Lodge News & Events | 0 comments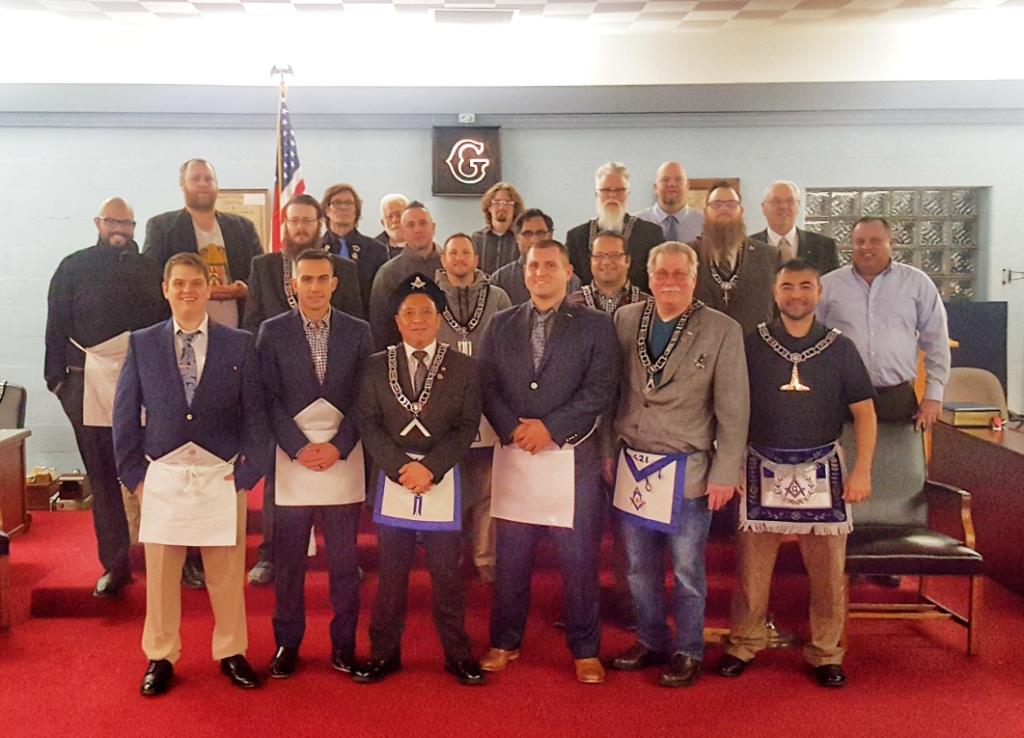 Congratulations to Carmel 421's three youngest (and newest) Entered Apprentices! Above Photo Front Row, from left to right: Brother Joe Cravens, Brother Brandon Krieger, WM Wilfredo Geronimo, Brother Adam Godfrey. Welcome to the worlds greatest fraternity brothers!
For this degree, JW Wilfredo Geronimo acted as WM.  Kudo's also go to WM Brandon Schultz for 2nd and 3rd Lectures, as well as to honorary 421 member PM Jay Blazier and his first lecture partner Dave Philpott, PM.
A delicious "Chicken and Noodles" (including Hawaiian Sweet Rolls, Walnut and Raspberry Vinaigrette salad) dinner and desserts ( Sugar Cream and assorted pies) was served by JW, Wilfredo Geronimo.
In addition to cooking and serving dinner, Brother Geronimo also set the EA degree "Craft List" for the degree.  Last but not least – he then had to perform all the WM duties throughout this EA degree.  Setting the Craft List, Serving Dinner, and Conducting the Degree as WM – are known to a few who have done it as "performing the Trifecta". Performing all three duties is not advised due to the high stress involved – but the successful completion of it is respected, mostly by other lodge leaders who have done the same.  Imagine if you had to start working on the craft list a week or two before, juggle that and all the last minute changes, emails, phone calls that come with the job …then begin the dinner plans a week before, deliver cooked food to the lodge at 11pm the evening before …and finally PRACTICE and MEMORIZE ALL the degree work required to run the degree as WM.  Brother Geronimo was lovingly scolded by his peers who reminded him – "Brother Geronimo – that's doing WAY too much! Ask for help and delegate the dinner!  And yet the evening was successful and one of the main reasons it was due to the tremendous effort by our brother and Junior Warden Geronimo.